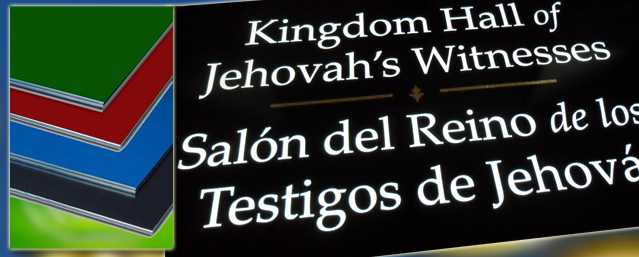 Our metal sign panels are maintenance-free Aluminum-clad panels which are an excellent economical option for exterior signage. These panels may be wall-mounted, installed on posts or inserted into monument bases. Vinyl sign lettering is the most common option since this lettering is crisp and easily read from a distance day or night. However, stud-mounted lettering and adhesive-backed lettering are alternative options that may be used with these panels. These durable panels have several applications and make excellent Kingdom Hall entrance signs, Meeting Schedules, Directional and Parking lot signs.
Reflective Vinyl Lettering: (Highly Recommended)
Reflective vinyl lettering is made from a high intensity industrial grade vinyl that has a metallic, reflective base which highly reflects light. When placed on darker backgrounds, reflective vinyl provides greater visibility during the day and instant readability at night. These signs are especially effective at night when there is no illumination on the sign face as headlights from oncoming and passing cars illuminate the vinyl letters making them clearly visible.
Advantages:
Absolutely maintenance-free
Heightened visibility and readability daytime and nighttime
Made from long lasting premium vinyl
Best solution for public signs that need to be visible at night
Provides an updated, enhanced appearance
Excellent for Kingdom Hall Parking Lot signs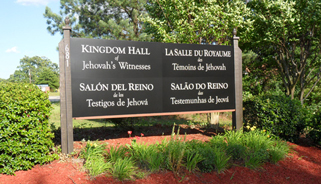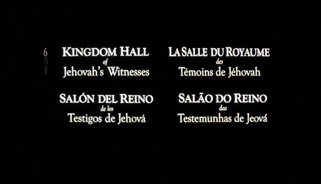 Reflective Lettering - Daytime view Reflective Lettering - Nighttime view
Standard Metal Panel Options:
Standard Colors Available: Black, Blue (Dark), Bronze/Brown, Burgundy, Green, Ivory, White

Standard Shapes Available: Square corners, Radius corners





Standard Aesthetic Features Available: Reflective Vinyl Lettering, Vinyl Lettering, Vinyl Flourishes, Gold Leaf Vinyl Flourishes, Stud Mounted Lettering, Adhesive-backed Lettering, Vinyl Borders, Gold Leaf Vinyl Borders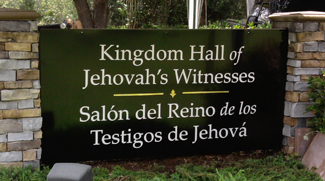 &nbsp
Reflective Vinyl w/ Gold Leaf Flourishes Reflective Vinyl w/ Gold Leaf Border and Flourishes
Custom Designs
Our team of designers will be pleased to create a custom design for your sign panel. Custom features to meet your architectural needs are available upon request. For more instructions on how this may be accomplished, see our Custom Design section
Getting Started
When you are ready to proceed with your project, you may submit your custom Drawing(s), Project Description and Photos to our team for review and we will provide a Quote for Fabrication and Production. Click the link below to Get Started.